It seems that the custom scene has been bitten by the drag racing bug. As motorcyclists, we all have an inherent love for speed, but when you combine that obsession with style and a good dose of competitiveness things start to get really interesting.
It may not sound like much but a lot can happen in an 8th of a mile especially when there are turbochargers, superchargers and nitrous oxide involved and this is exactly the case with the 'Sultans of Sprint' race series. Orchestrated by Lucky Cat Garage founder Séb Lorentz and his girlfriend Laurence the event is a melting pot of motorcycle madness that's taken Europe by storm. After the successful completion of the events 2017 race series, we decided it was time to talk to the man himself about how it all began.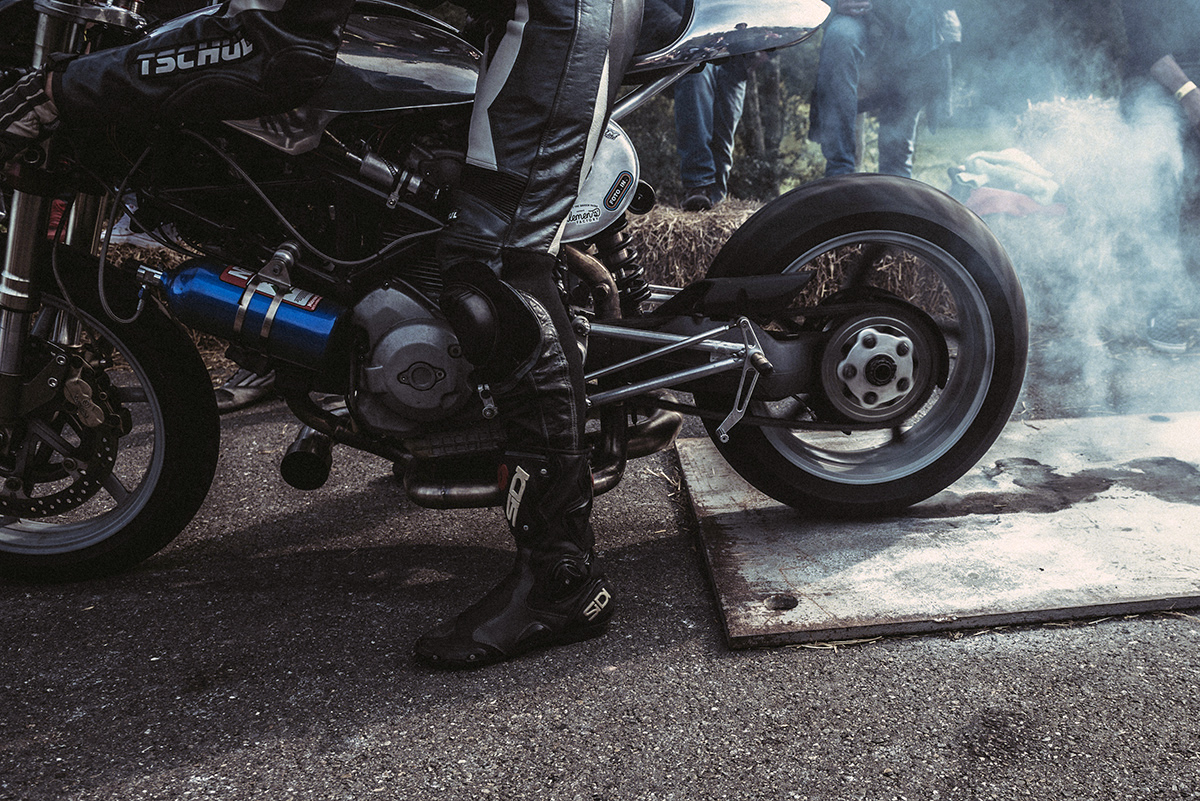 ROCR: What's the story behind the Sultans of Sprint?
Seb: The Sultans of Sprint challenge was created in 2016. I was racing the Lucky Cat Garage BMW "Sprintbeemer" for some years in different classes and it gave other motor freaks the motivation to also build their own custom bike to participate in sprint racing. With their support, I decided with my partner Laurence to create a special challenge named "Sultans of Sprint".
We added some fantasy and creativity to a typical sprint race style contest. 70% of the points awarded to racers are for their performance during the sprints while the remaining 30% is for the style. The two style categories are "style & engineering" which rewards the racers for the work they did to the bikes and the "scary factor" which is given to the team with the best strategy for scaring their opponents. It ended up turning into a pure costume contest with some very funny outcomes.
Last but not least we also created a "party monster bonus" for some extra points. The goal for the rider was to tackle some challenges during the Sultans of Sprint parties. For example, we organized a limbo contest with some completely unfair rules: each rider had to go under the height of his own sprint racer and for some of them it was nearly impossible, but for everyone, it was really big fun!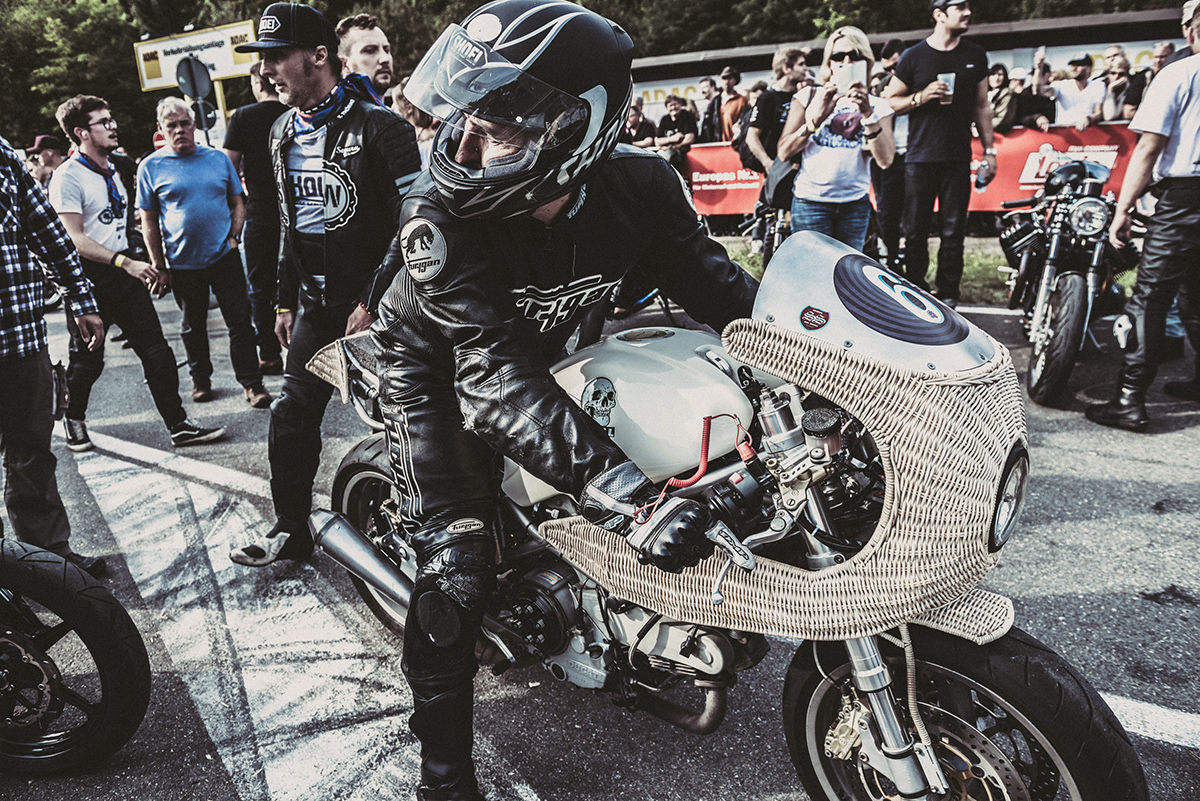 How much has the event changed since it first took place?
Since the beginning, we had a clear vision of what the Sultans of Sprint challenge was supposed to be. Serious racing but also serious fun. Our objective hasn't changed all that much. Sultans of Sprint wasn't organized by a group of friends, but it has been made to be a social event for motor freaks that allows them to share their passion for speed and custom bikes. We are glad that many of the contenders have become good friends and that the Sultans of Sprint competitors maintain a friendly composure despite the high level of competition.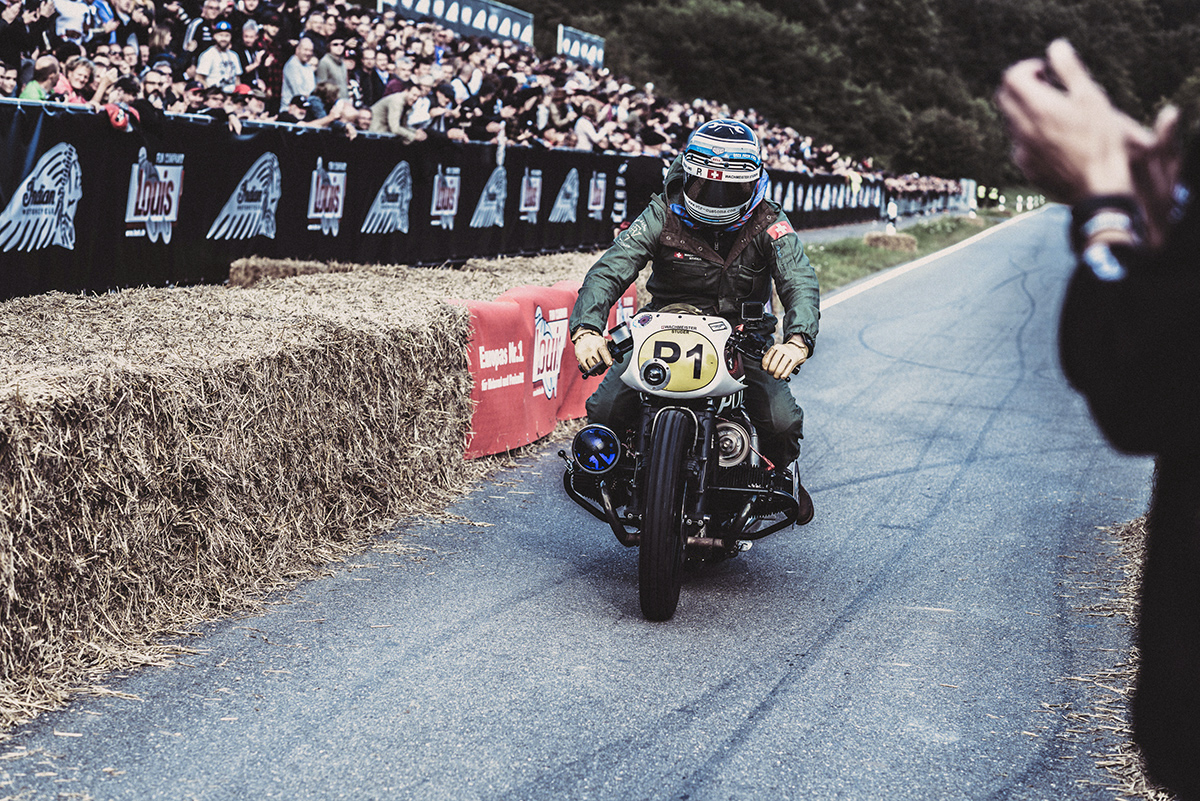 Where do each of the races in the series take place?
In 2017 we had 4 rounds all over Europe hosted by great events. The Reunion in Monza (Italy), Cafe Racer Festival in Monhtléry (France), Bikers Classics in SPA Francorchamps (Belgium) and last but not least Glemseck 101 in Leonberg (Germany).
For the 2017 season, we also had several displays hosted by cool events like Bike Shed London (UK), Wheels & Waves (France), Quest Riderz Festival, Dandy Riders Festival, the Midnight Garage Festival (France) and the All Ride Show.
For 2018 the calendar is not fixed yet but we will once again have 4 or 5 rounds of races taking place in different European countries.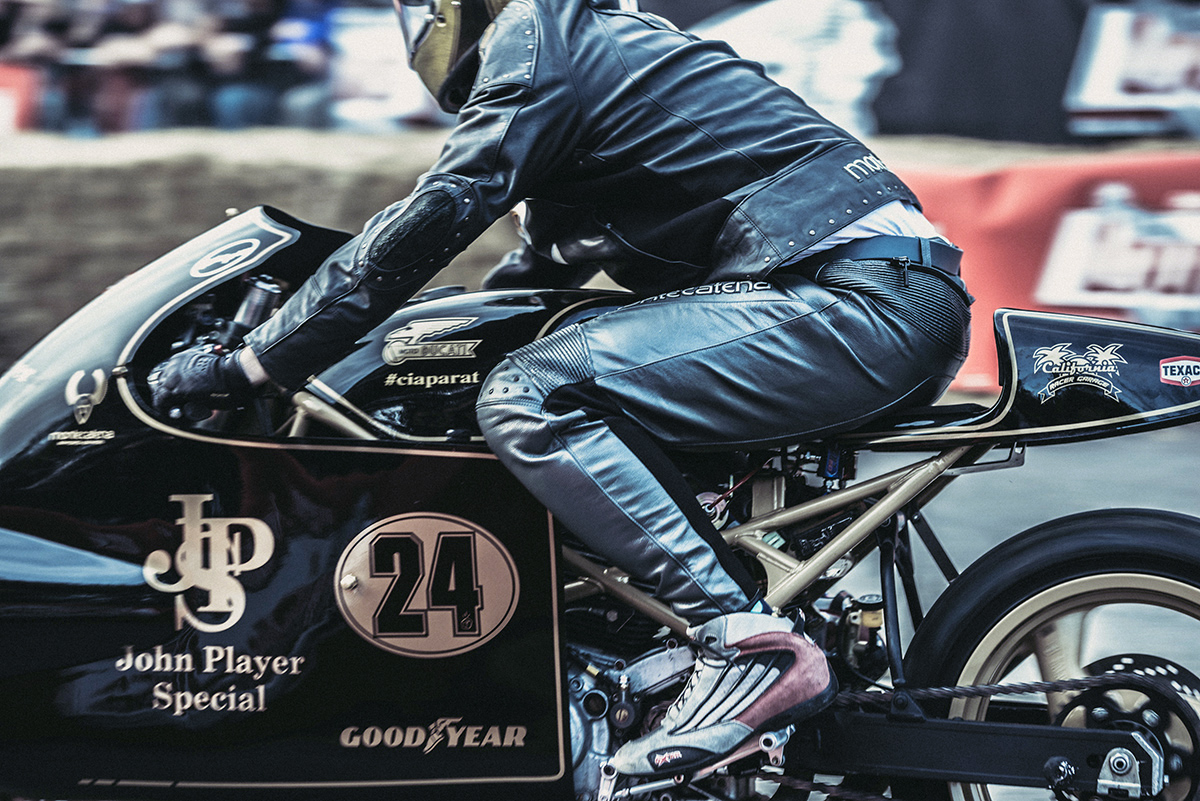 How do competitors register to take part and are there any rules they need to abide by?
Competitors have to build a bike which fits the tech rules, but also with the right spirit. The idea is to use a twin cylinder, air cooled 4 stroke motorcycle which is not originally really fast. By increasing power and traction and by reducing weight you can have very spectacular results on in just 200 or 400 meters!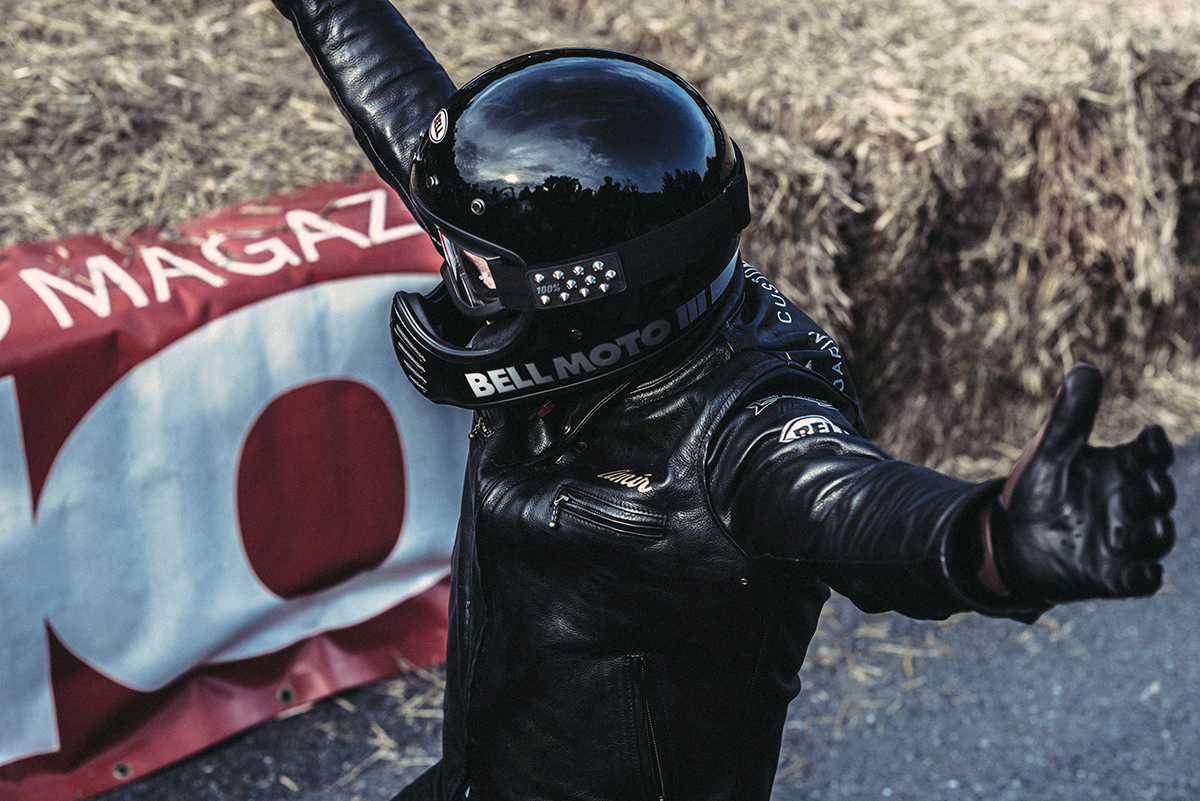 For the Sultans of Sprint class, the engine capacity is limited to 1400cc for 2 valves and 1000cc for 4 valves engines. Then the engine capacity is limited according to the supercharging system used (turbo, blower and/or nitrous). This might evolve a little bit for the next season but it won't change dramatically. For anyone interested in taking part all the details are available on the Sultans of Sprint website
What were some of your personal highlights from this year's events?
For me this year was completely new. I wasn't racing because I was focused on the event organization. I was still very involved as my partner Laurence was taking part with the BMW "Bombinette". It was the first season for her and she did really well finishing in 5th position. I am really proud of her representing Lucky Cat Garage. Laurence is now infected by the sprint fever and will come back next year with an improved "Bombinette".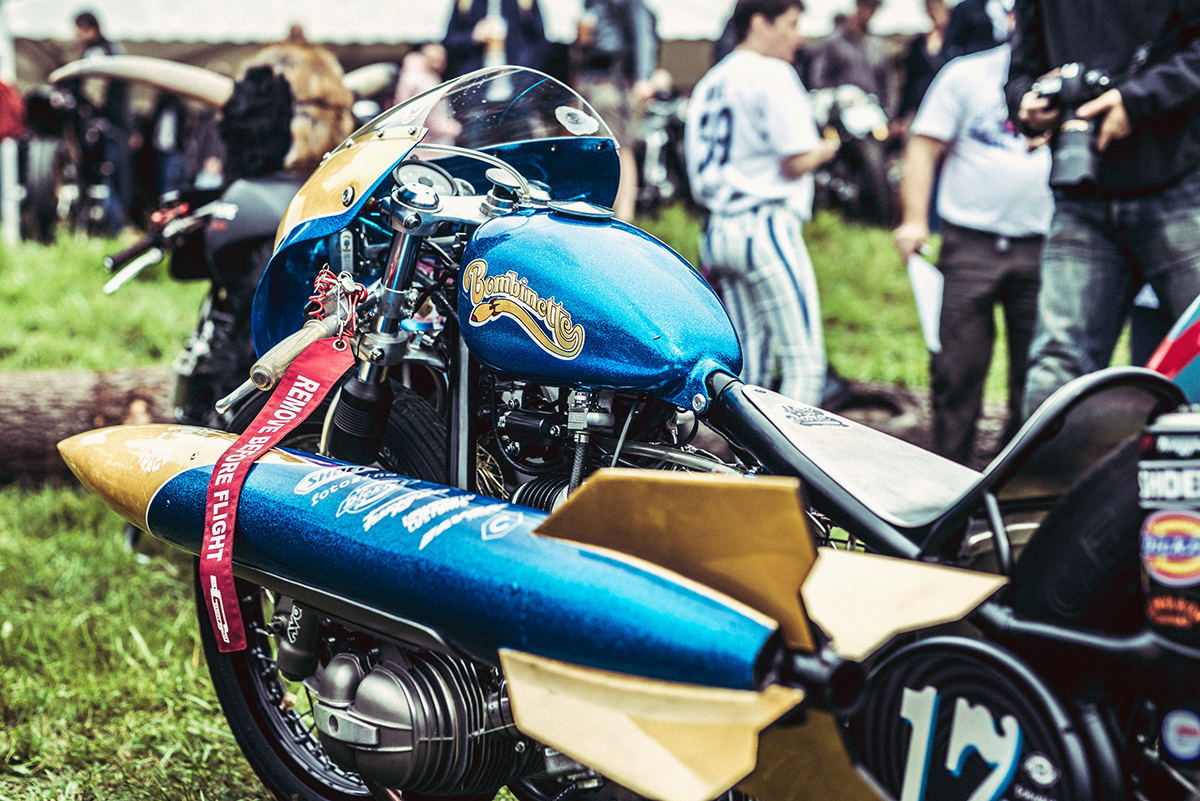 What are some of the builders that took part in the 2017 season?
During this season we had the pleasure to reunite some of the teams which were there from the beginning. They included:
VTR Customs and the BMW "Polizia Uno"
Radical Guzzi and the Moto Guzzi "NOSferatu"
Venom Design and the Harley/Buell "Sprintster"
FCR Original and the "Crazy Bonnie" Triumph
Schlachtwerk and the Yamaha TR1 "Skinny Beast"
It was also great to welcome these new contenders:
Shed Hot Customs and the BMW "Velocity Baby"
BCan Race and the BMW R100RS "The Bee"
Milano Cafe Racers and the Ducati "Ciaparat"
Mellow Motorcycles and the Ducati "Frankenstein"
H-Skull and the Ducati "Balinese Kiss"
We were also pleased to have Fred Krugger as a special guest during 2 rounds of racing.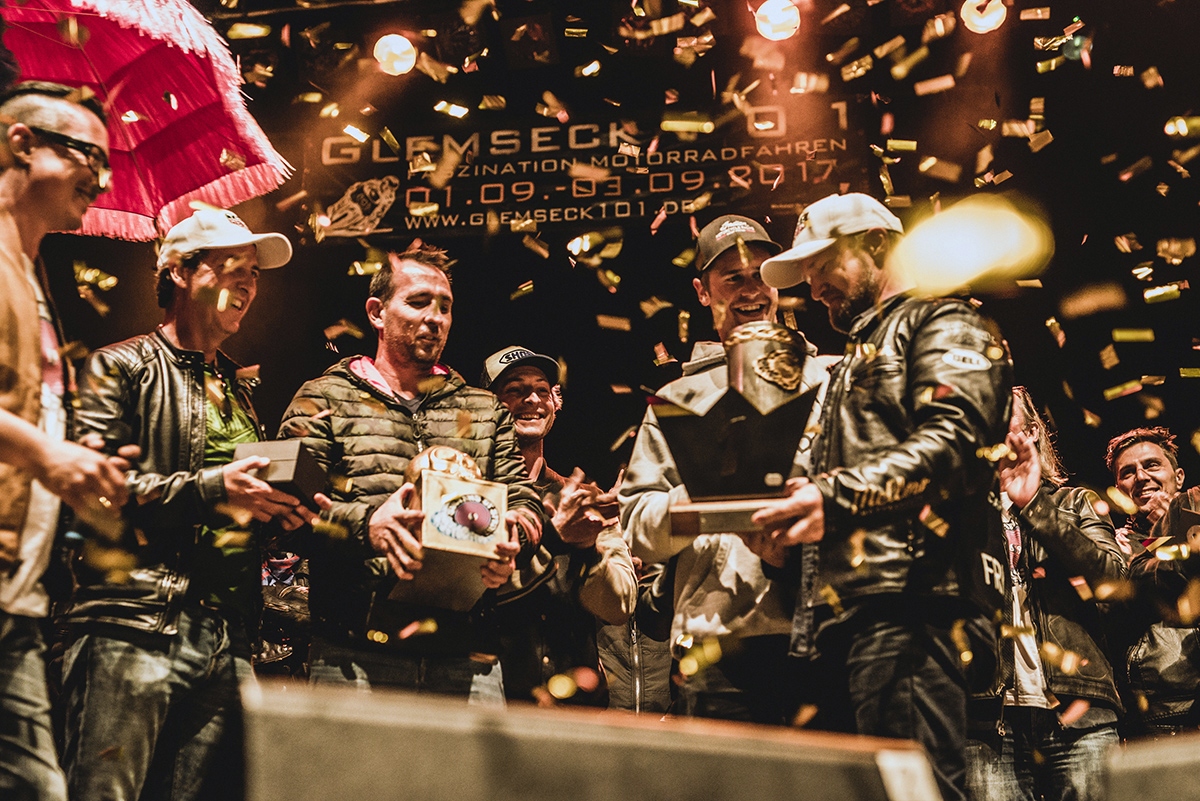 Who was this year's winner and was it a close race?
This years winner was Amir Brajan from team Mellow Motorcycles with their Ducati/Honda named "Frankenstein". Amir managed to win against Tommy Thoring from Schlachtwerk Racing who was riding his Yamaha "Skinny Beast" from last season. They were neck and neck leading into the final round at Glemseck 101 and no one was willing to bet on who was going to finish in first place! Third place went to Sami Panseri on the Ducati "Ciaparat" from team Milano Cafe Racers followed closely by Mathieu Menard from FCR Original on the Triumph "Crazy Bonnie".
What can we expect to see at the Sultans of Sprint next year?
You can expect to see much more craziness but the Sultans of Sprint won't lose its serious racing theme. We are also now opening a "factory class" to allow manufacturers to play with us using their latest modern motorcycles. The rules for this class will be slightly different and opened to water-cooled modern twin cylinder engines, but the typical crazy Sultans of Sprint rules will still apply…and not only during the races!
Photography by Cyril Casagrande