You can spend as much or as little as you want on your riding gear. There's a school of thought that says the more you spend the better it gets. But there are also riders who spend as little as possible on their gear thinking "it's got the safety rating so it's just as good". We fall somewhere between the two. We know there are brands who charge a premium for their gear but we also know there are companies who strive to offer the best protection at an affordable price.
You don't have to spend a fortune to kit yourself out in great looking top-performing gear. So to demonstrate our point here's our guide to Going ATGATT Cafe Racer Style for Under $1500.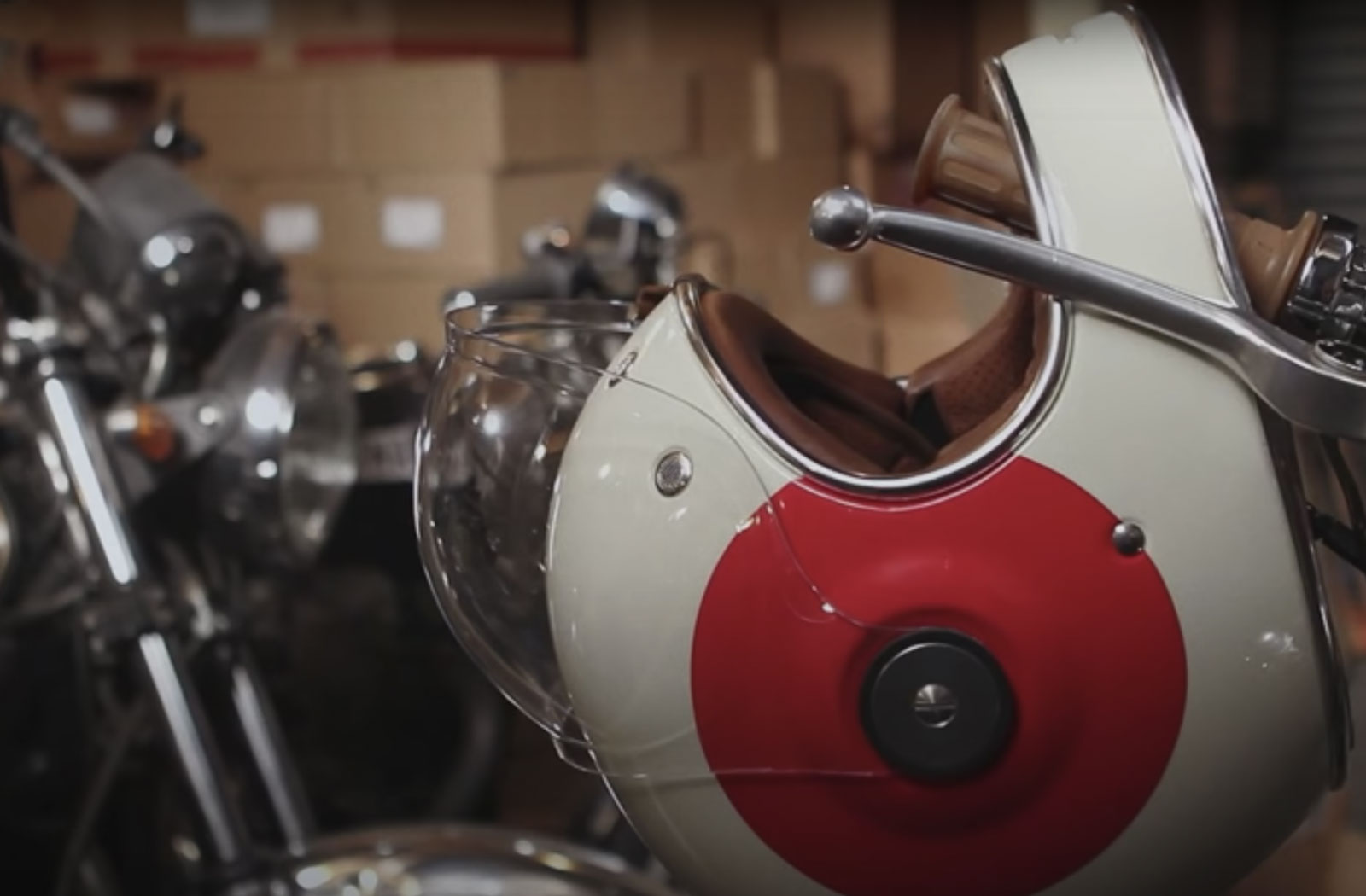 Our ATGATT Budget Breakdown
We've split our $1500 budget up and spread it out according to how we'd allocate it. We set aside more cash for high ticket price items like helmets and jackets and scrimped a bit on smaller items such as gloves. In each of the categories below, you'll find gear that costs less than the allocated budget. This means you can go full ATGATT for less and still put together a good quality, protective riding outfit.
Budget split:
Helmet = $500
Jacket = $400
Pants = $300
Shoes = $200
Gloves = $100
Our choices are based on our own gear experiences and rider reviews from some of the top online retailers. We always recommend trying gear on first or buying it from a store that has a good returns policy.
Cafe Racer Helmets Under $500
Note: if you opt to purchase a lid from one of our links, we will receive a small commission (at no additional cost to you). Thank you for supporting us.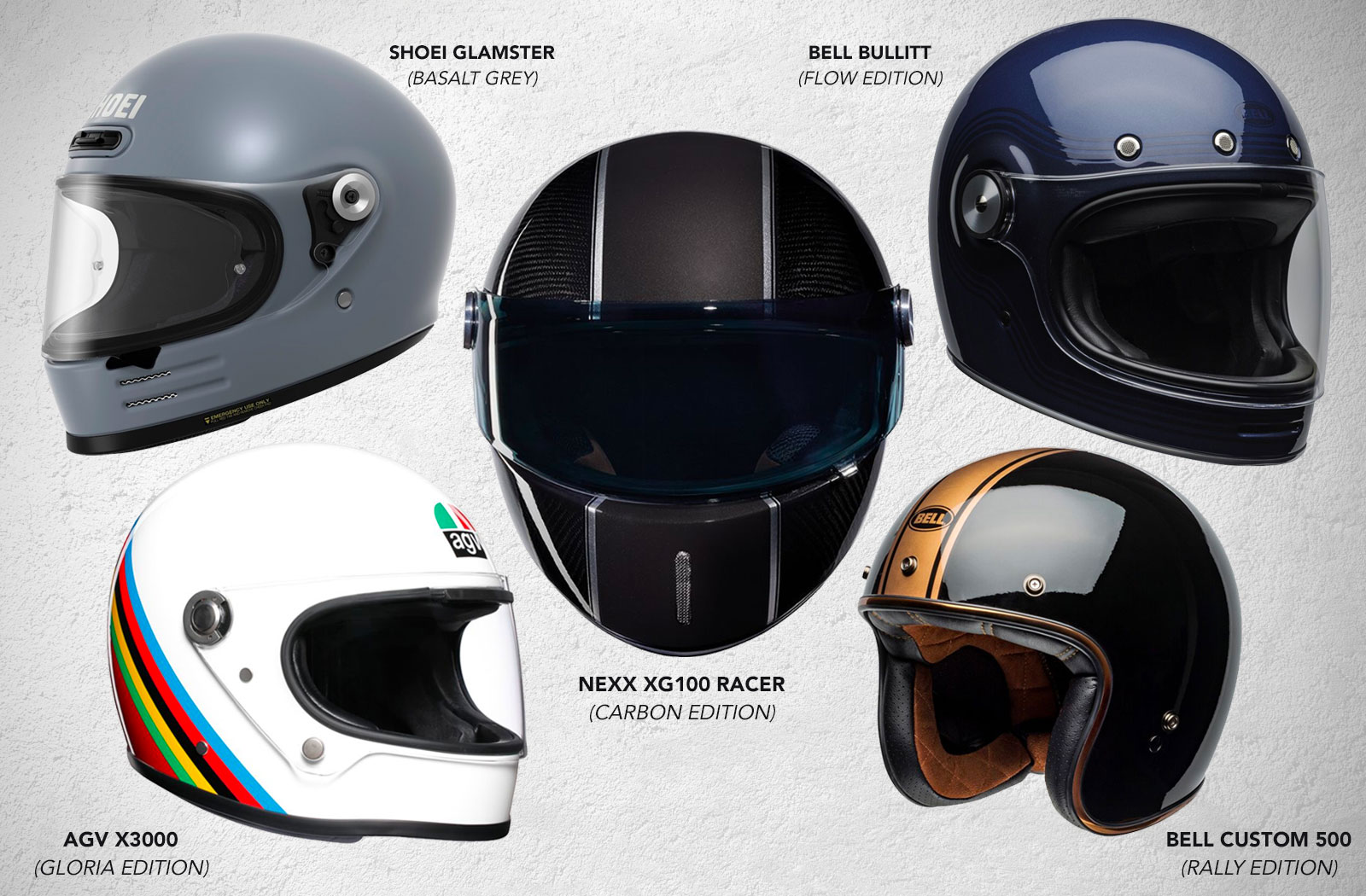 You can spend anywhere between $50 and upwards of $1500 on a cafe racer style helmet. For the purpose of this list we're looking at helmets that cost up to $500 and offer the level of quality and protection we'd choose for ourselves.
Shoei Glamster – from $490
Yes, Shoei has a retro-styled helmet. Yes, it is unfortunately called the Glamster. Don't let that put you off though. The Glamster is a great looking helmet that boasts the tried and trusted Shoei name. As with most retro-styled helmets, the Shoei Glamster doesn't offer as much ventilation or suppress wind noise as well as some sports bike helmets. What you do get though is a great looking lid with all of this – carbon/kevlar/fibre shell, multi-density EPS liner, Emergency Quick Release cheek pad system and an ECE 22.05 safety rating.
Where to buy: Urban Rider
Bell Bullitt – from $399.95
The Bullitt has been around for quite some time now and continues to be a favourite amongst cafe racers. This helmet redefined the retro helmet market and has become somewhat of an icon in the custom motorcycle scene.
Since its release in 2014, the Bullitt design has remained essentially untouched aside from a huge array of colourways and a few carbon fibre editions. This tells us that they obviously did a good job with the helmet in the first place, but don't just take our word for it. A touch over 370 people have contributed to a 4 out of 5 star rating on RevZilla.
Where to buy: RevZilla, Amazon
Bell Custom 500 – from $129.95
Another staple in the Bell Helmets offering is the open-face Custom 500. Similar to the Bullitt the Bell Custom 500 has withstood the test of time. It too boasts a very long list of RevZilla user reviews and has come out on top with a 4.5 out of 5 rating.
As far as features go, this is a "what you see is what you get" offering. Add a visor using the press studs along the brow for a bit of wind protection or simply throw on a pair of protective sunglasses. With a starting price well under $150, you won't find many decent helmets cheaper than this!
Where to buy: Amazon
Nexx XG100 Racer Carbon
Yes. You can score yourself a slick, exposed carbon fibre helmet for under $500…but only just! At $499.95 the XG100 Racer Carbon helmet made it onto our list by a whisker.
The XG100 Racer Carbon helmet is the work of Spanish helmet manufacturer Nexx Helmets. If you haven't heard of them never fear they know their stuff. Nexx offers a full range of helmets for everyone from sports riders through to adventure tourers. The XG100 Racer is Nexx's premium offering in their retro helmet range. It features a carbon composite shell, a wide field of view visor, a soft touch suede look interior and is both DOT and ECE certified.
Where to buy: Amazon
AGV X3000 – from $379.95
The AGV X300 uses an almost identical shell shape to the 1960's helmet it was modelled off. That helmet was the one worn by none other than 15 times world championship winner Giacomo Agostini. But never fear, this helmet offers much more in the way of safety than Agostini's helmet ever did. That's because AGV has injected decades of learnt expertise into the X3000 to achieve ECE 22.05 homologation. Add to that a premium finish using premium materials and you've got yourself a very attractive helmet offering. Plus, if you're into race replica designs, you can fork out a bit more cash and secure a helmet with the same livery as Agostini's original helmet.
Where to buy: RevZilla, Amazon
Cafe Racer Jackets Under $400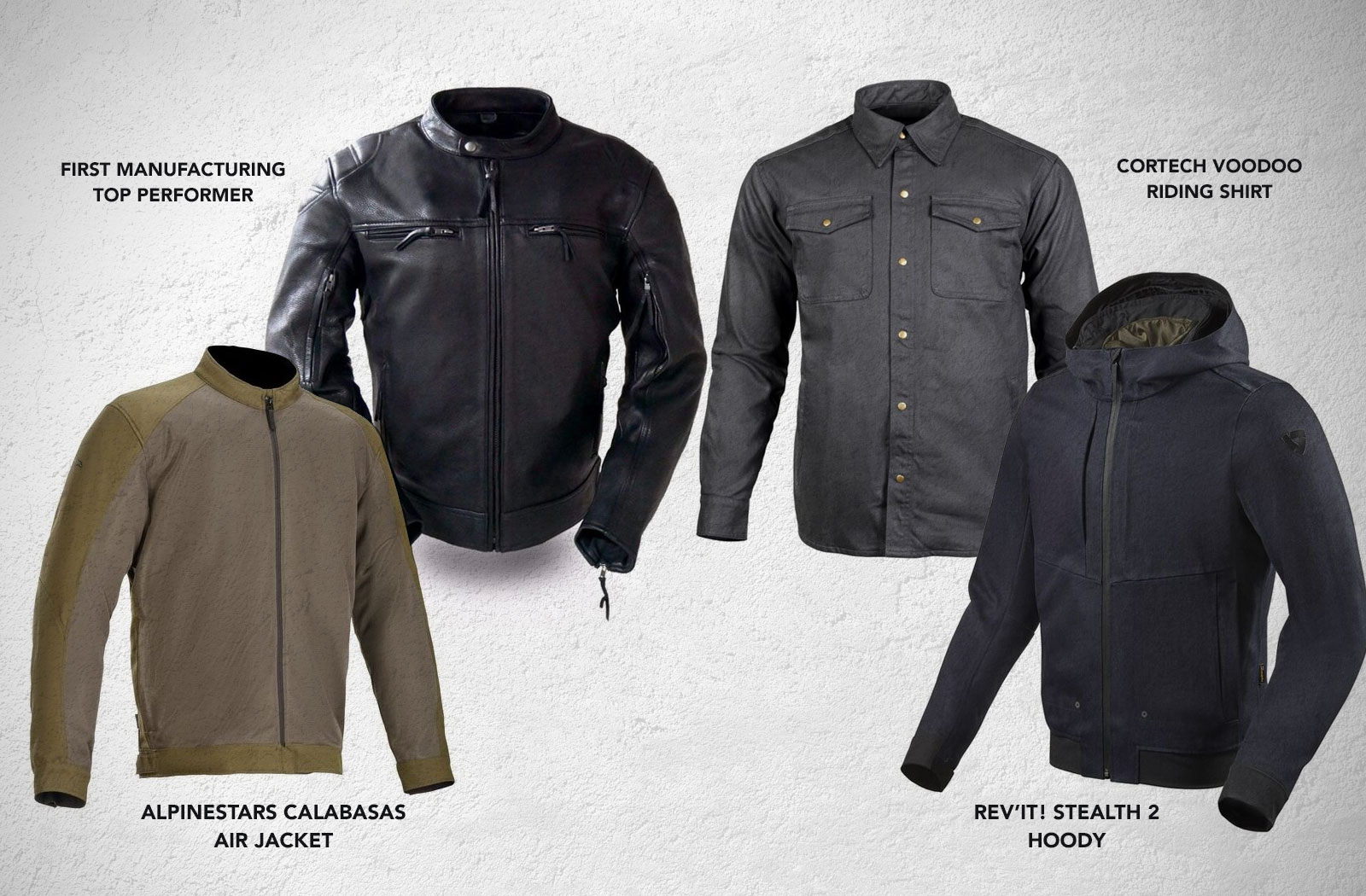 Cafe Racer jackets vary greatly depending on their purpose. Generally, they are tailored to a particular season. Some offer excellent insulation and waterproofing while others are designed to keep you cool. Here you'll find a mix of both as well as a couple of 4 season jackets offering year-round wearability.
Cortech Voodoo Riding Shirt – $139.99
Going full ATGATT doesn't mean you have to be dressed in leather from head to toe. These days many gear manufacturers are producing protective gear that looks just like casual streetwear. A great example of this is the Cortech Voodoo Riding Shirt.
The Cortech Voodoo Riding Shirt features a waxed cotton exterior that's backed by an abrasion resistant Syncromesh liner. The waxed cotton has basic water repelling properties while the Syncromesh wicks moisture and provide abrasion protection. Additional panels of Kevlar in high impact areas beef things up even further. The shirt secures with a hidden zipper and press studs and comes with both elbow and shoulder CE Level-1 armour. Add a back protector you've you've got yourself one seriously tough shirt.
Where to buy: RevZilla, Amazon
Alpinestars Calabasas Air Jacket – $169.95
Now you can look and feel cool at the same time in the Alpinestars Calabasas Air Jacket. This affordable summer jacket features a no fuss design with minimal branding and comes in two smart-looking colorways of black or military green. The Calabasas Air Jacket is constructed using a mix of 600D polyester in high impact areas and a high tensile mesh to allow cool air to penetrate through to your body. Alpinestars have then added Nucleon Flex Plus CE Level 1 armour to the elbows and shoulders to achieve a CE rated A class protective garment rating.
Where to buy: RevZilla
REV'IT! Stealth 2 Hoody – $399.99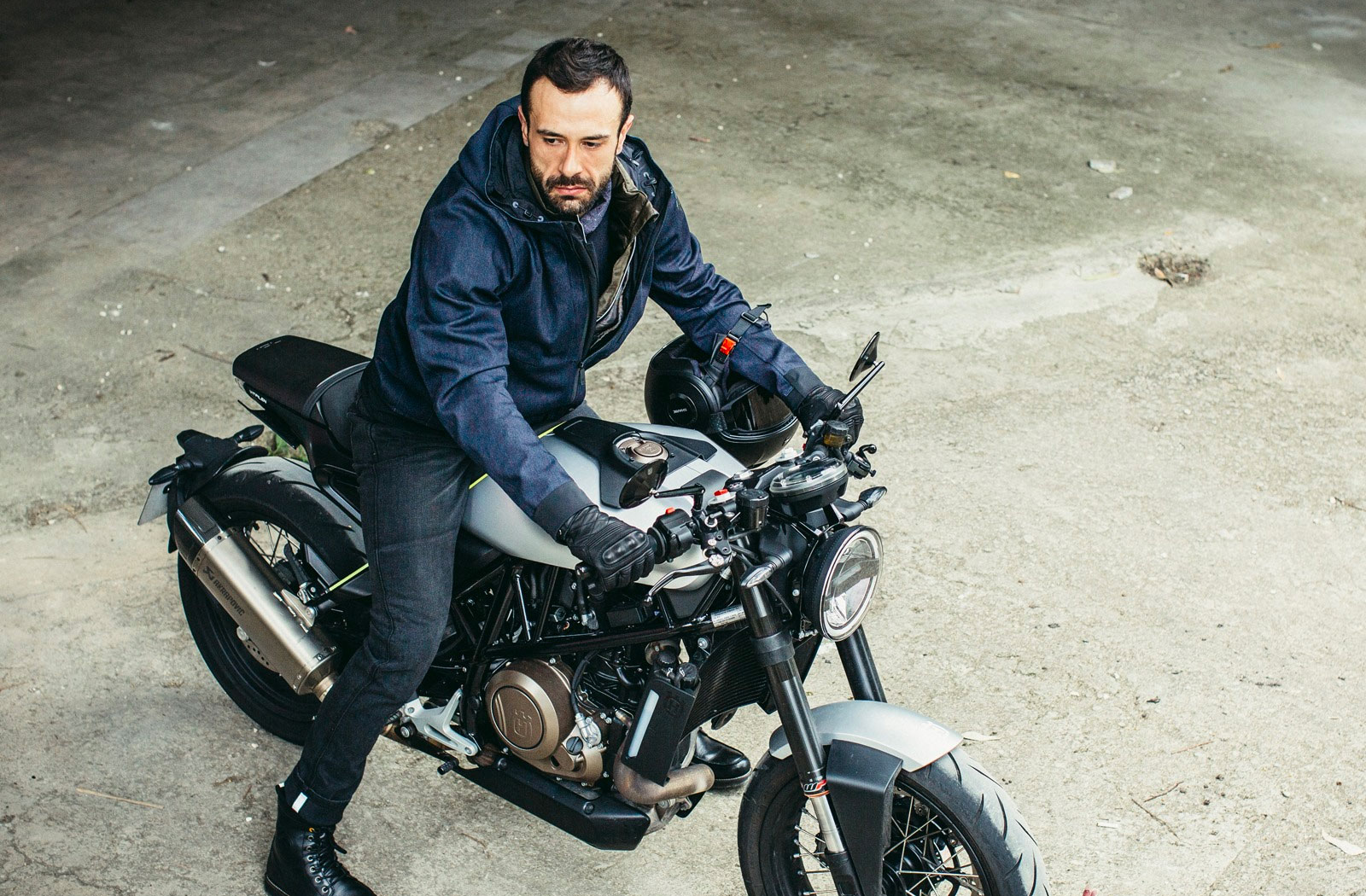 Ticking off the winter/waterproof addition to our jacket list and squeezing in just below the $400 cut off mark is the Rev'it! Stealth 2 hooded jacket.
The Stealth 2 Hoody is another jacket that blurs the line between streetwear and protective riding gear, but what makes it really impressive is its list of features. The Stealth 2 Hoody outer shell is constructed using abrasion-resistant Cordura Stretch denim which gives the jacket an urban streetwear aesthetic. On the inside, Rev'it! has laminated the shell using a waterproof hydratex liner to keep the rain out. A removable thermal liner then adds warmth to keep you feeling snug throughout the colder riding months. Additional safety comes in the form of dual layers of the companies PWR | shield material and both shoulder and elbow Seesmart CE level 1 armor.
Where to buy: RevZilla
First Manufacturing Top Performer – $299.99
Leather jackets and cafe racers go together like peas and carrots. True to its name the First Manufacturing Top Performer jacket scores a respectable 4.5 out of 5 stars on both Amazon and RevZilla. That's because this classically styled leather jacket features a long list of smart features that earn it the title of the only jacket you'll need in your riding gear collection.
Made from First Manufacturing's 1.2mm diamond skin leather the Top Performer offers excellent levels of abrasion resistance. A fully removable liner provides seasonability as do the wide ventilation pockets on the chest, back and biceps. Additional features include a comfort focused snap closure mandarin collar, padded shoulder, kidney and elbow details, zippered, slash cut cuffs and 4 storage pockets. If you're after even more protection the Top Performer jacket can be fitted with optional armour.
Where to buy: Amazon
Cafe Racer Pants Under $300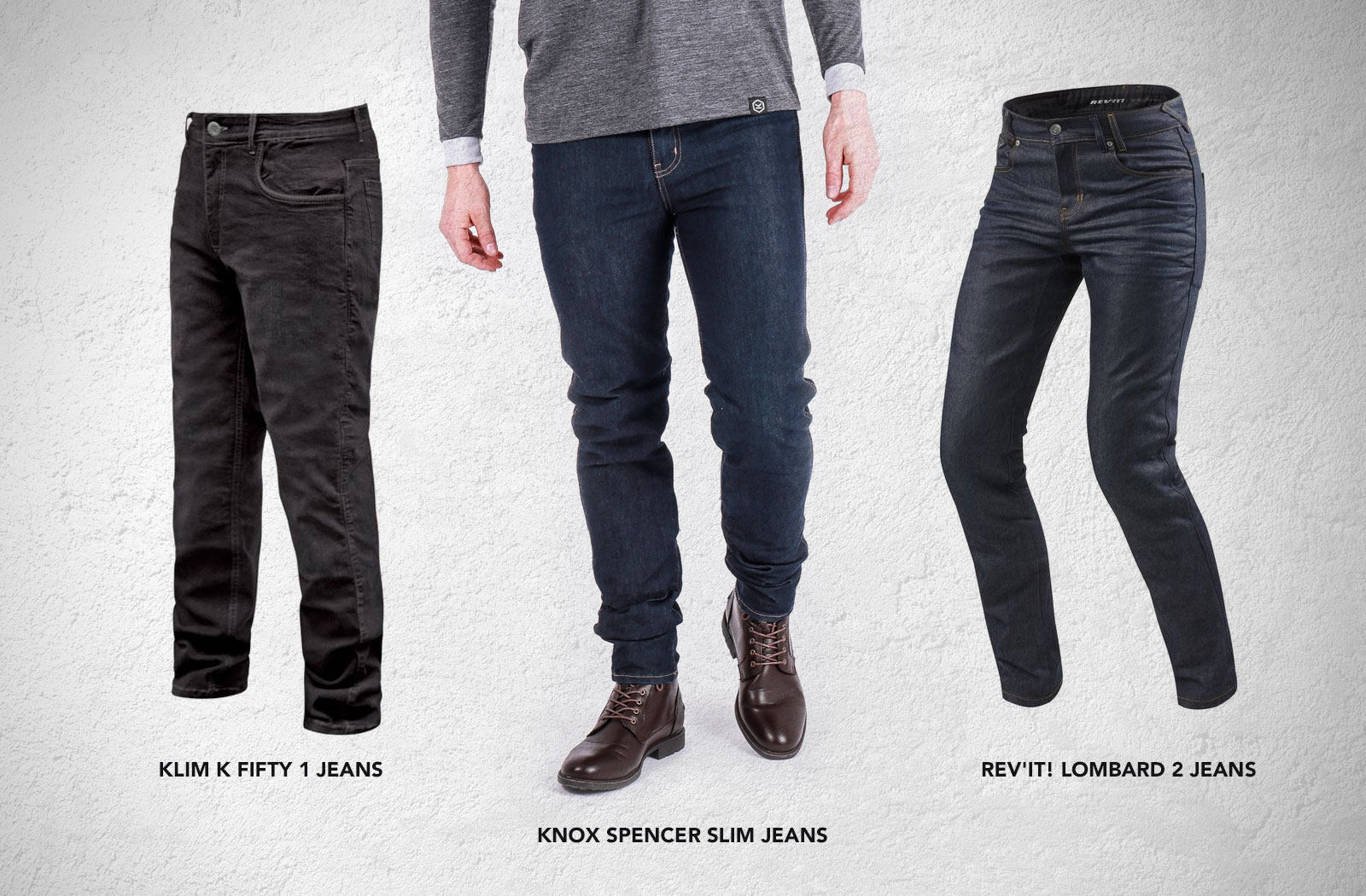 These days there's absolutely no reason why you can't have a pair of riding jeans that fit and feel just as well as your favourite Levis. However, unlike those Levis, these riding pants are designed to keep your skin safe should you find yourself sliding down the asphalt. Here are 3 different style options for under $300.
Klim K Fifty 1 Jeans – $289.99
If your days of wearing stove pipe jeans are over then the Klim K Fifty 1 Jeans are for you. These best selling, wide leg, loose fit jeans have won many riders over with their relaxed, no fuss styling. But there's much more to these jeans than comfort and looks alone.
The K Fifty 1 jeans are woven using a tough Cordura Denim blend which is backed up by panels of Kevlar in high impact areas. Klim has also thrown removable D3O armor for the hips and knees into the purchase price. If you're chasing something a bit less baggy and with more of a classic straight leg Levi 501 cut, we'd also suggest taking a look at the Klim K Fifty 2.
Where to buy: RevZilla
REV'IT! Lombard 2 Jeans – $239.99
If you're more of a regular fit kind of guy these Rev'it! Lombard 2 jeans are just the ticket. If you want a true any occasion riding jean then a single layer construction is the way to go. Kevlar liners add bulk and heat in summer. The Lombard 2 wear just like regular jeans thanks to a 12.5oz Cordura blend construction. Included in the purchase price are low profile Seesmart CE-rated knee protectors and you can also add optional Seesmart hip protectors which are virtually undetectable when installed. As an extra line of defense, there's also double layers of highly abrasion resistant PWR | shield at the buttocks and knees.
Where to buy: RevZilla
Knox Spencer Slim Jeans – $240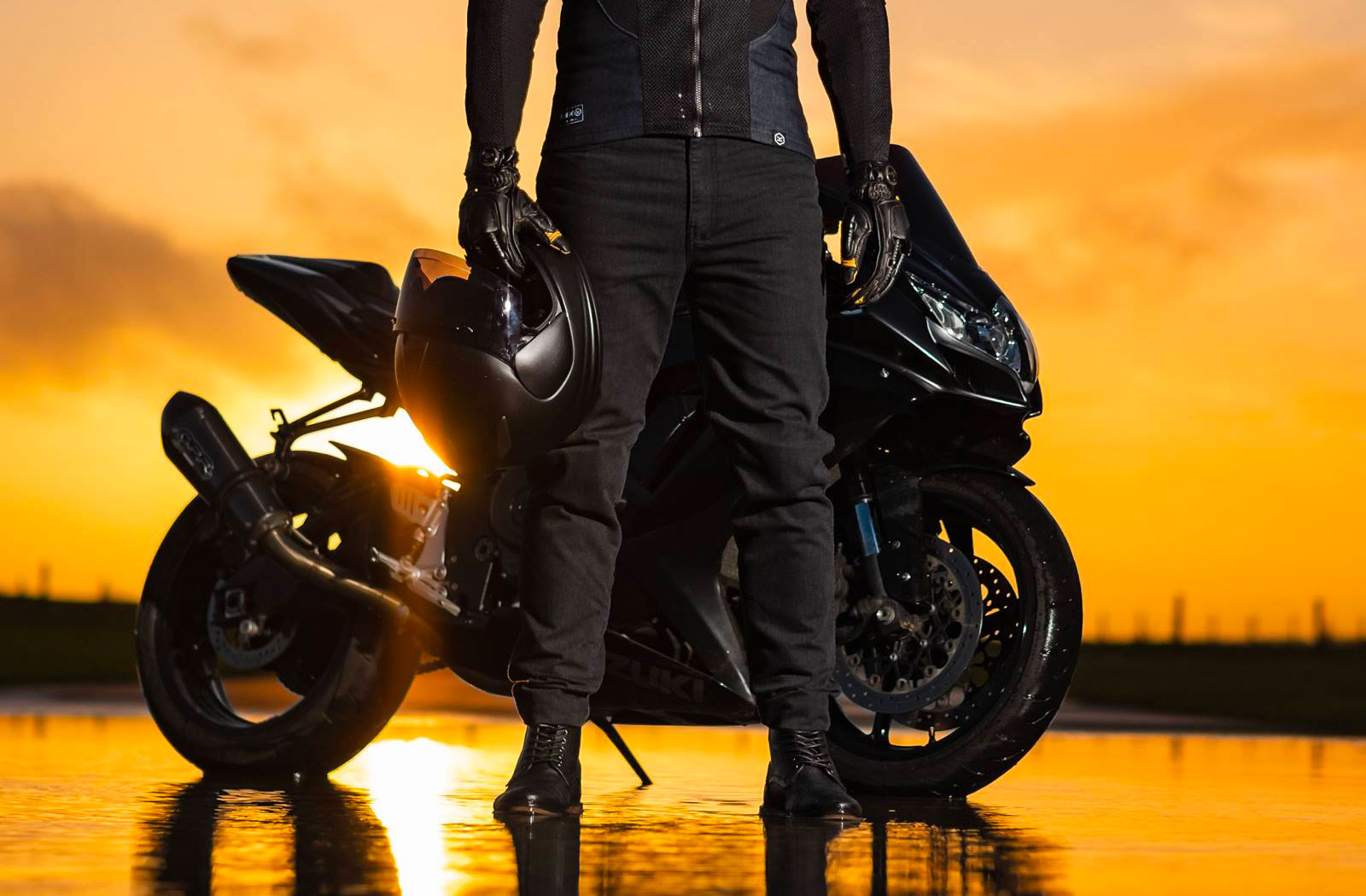 These slim leg jeans from Knox feature all the abrasion resistance you'll want from a pair of riding jeans with the added benefit of water resistance. The Knox Spencer Slim Jeans are constructed from a 10oz Cordura denim that has been treated with a Durable Water Repellency coating that will withstand regular washing. The jeans seamless design has been achieved by lining the interior with stretch cotton. This also helps to prevent the wearer from getting caught on the internal Kevlar panels when pulling the jeans on.
Another design benefit of the Spencer Slim Jeans is that the included knee armour is installed externally allowing you to easily fit and remove it as desired. Hip armour is also included in the price of these smart looking, 5 pocket jeans.
Where to buy: RevZilla
Cafe Racer Boots Under $200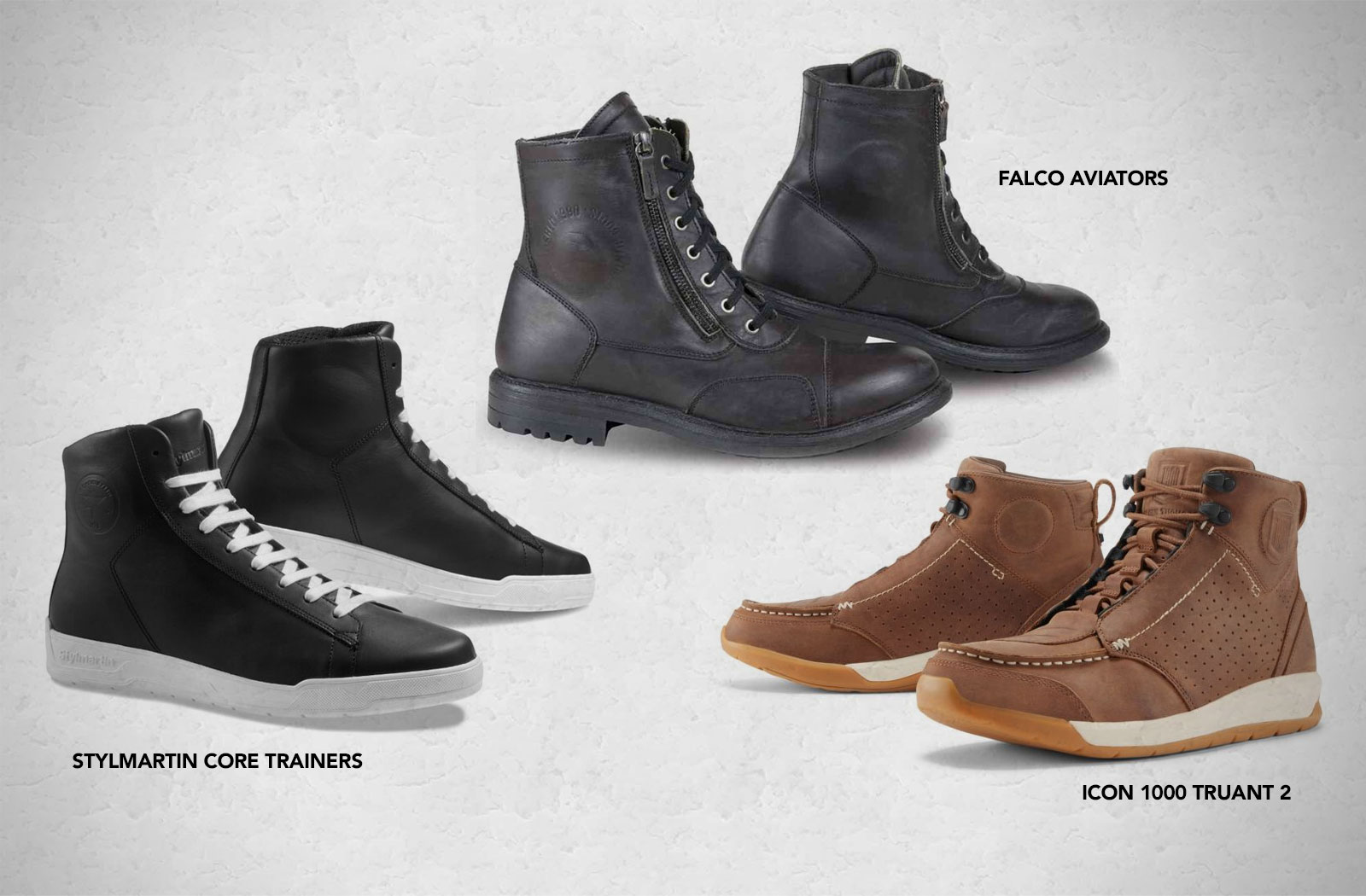 It's easy to spend $200 on a pair of stylish boots that don't offer any rider protection. The good news is that you can also buy a great looking pair of protective boots with the same budget. Here are a few of our favourites on the market right now…
Falco Aviator Boots – $185.19
If you're after a smart-looking boot that'll fit right in at the office check out the Falco Aviators. These Italian-made boots offer impressive quality for their sub $200 price point but there's a lot more going on here than good looks alone.
The Falco Aviator boots feature an impressively hard wearing oil-resistant, non-slip sole (trust me, mine are still going strong after 2 years of regular use). Both the heel and toe are reinforced and there's D30 inner and outer malleolus armour. The boots footbed is also specially designed to absorb vibration through your motorcycles footpegs and the full-grain leather construction reaches 19cm high to cover your ankles. To top it all off the Aviators are fully waterproof thanks to specially developed liner. Another appealing feature of these smart looking boots is their double zip easy access design that makes fitting and removing them a cinch.
Where to buy: FC-Moto
Icon 1000 Truant 2 Boots – $150
All the cool kids are wearing moc-toe style boots these days. If you're looking to step up your cool factor at an affordable price the Icon 1000 Truant 2 boots are the solution. These great looking boots are packed with smart moto-life features including D30 armour, hard wearing shifter panels, a specially engineered lasting board in the sole and a full grain leather upper for longevity and safety. As we've come to expect from the Icon 1000 range the Truant 2 boots are CE certified proving that form and function can go hand in hand.
Where to buy: RevZilla
Stylmartin Core Trainers – $169.95
Want a more of a casual looking riding boot with more protection than your Vans? Take a look at these Core Trainers by Stylmartin. Despite their relaxed demeanor, the Core Trainers are a CE Certified EN 13634:2015 protective garment. The lace up boots feature a quality full grain leather upper, waterproof/breathable liner, anatomic footbed and an anti-slip rubber sole. Additional armour at the ankle bones protects against hard knocks and the sole is designed to withstand crushing. Best of all these functional riding boots are designed with comfort in mind so they're all day wearable too.
Where to buy: RevZilla
Cafe Racer Gloves Under $100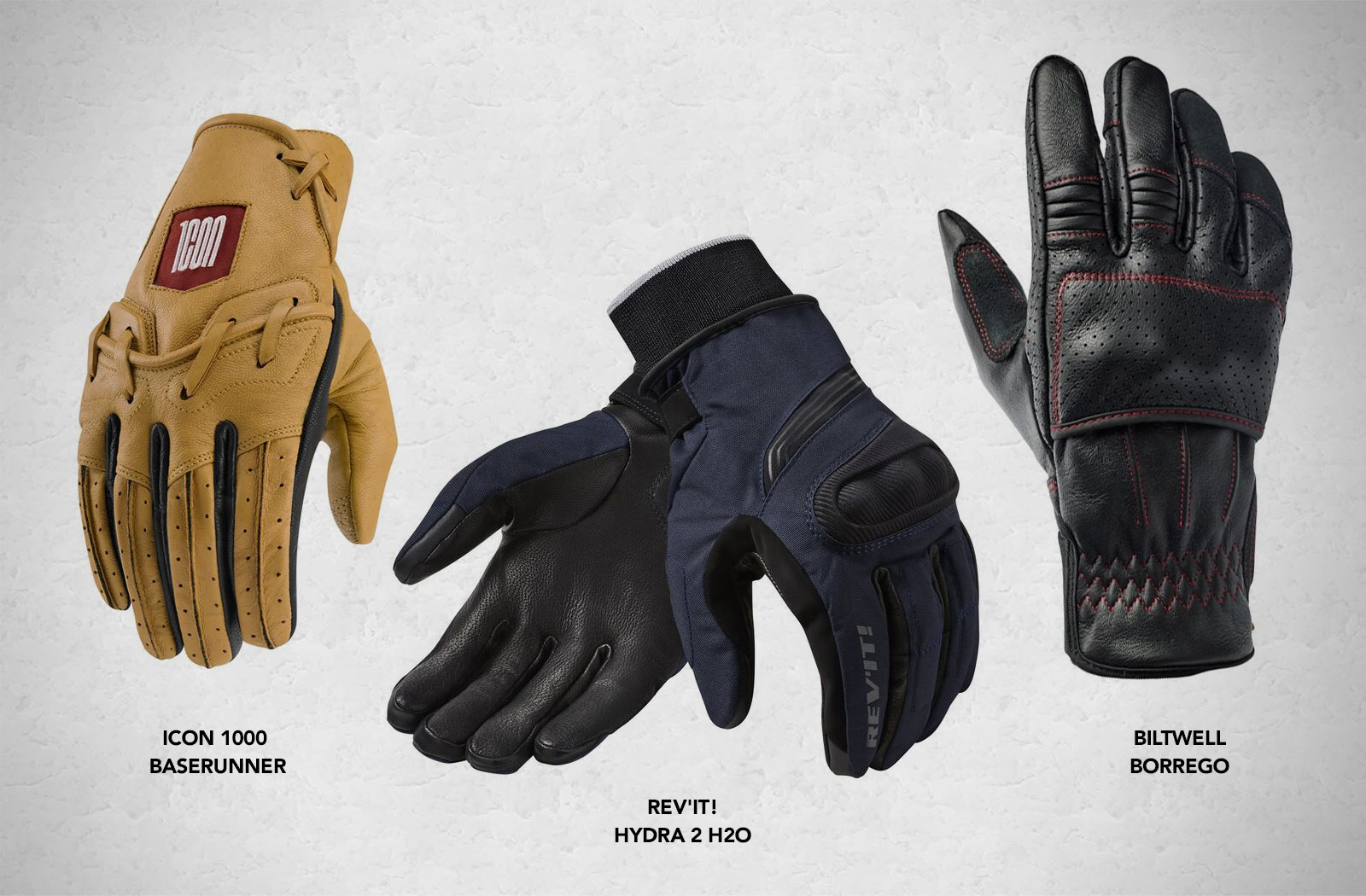 Believe it or not, you can pack a fair bit of protection into a pair of gloves. Generally speaking, cafe racer style gloves sacrifice some of that protection to achieve the right look. That said there are still plenty of options available that go the extra mile in order to keep your precious digits safe. Here are what we consider some of the best options for under $100.
REV'IT! Hydra 2 H2O Gloves – $99.99
At a mere 1 cent below our cut off budget these Rev'it! Hydra 2 H20 gloves are excellent value for money. Along with having great looking two-tone urban styling the Hydra 2 gloves are packed with impressive features making them an ideal companion for winter riders. On the inside the Hydra 2 gloves feature a waterproof Hydratex and thinsulate G polar fleece liner to keep your hands dry and warm. On the outside, you'll find a tough goatskin palm, PWR 500D upper and temperfoam armour inserts for optimum protection. Additional features include touchscreen friendly finger tips, reflective details and a comfy knitted cuff.
Where to buy: RevZilla
Biltwell Borrego Gloves – $99.95
The Borrego Gloves are Biltwells first EU CE certified riding gloves. These long cuff gloves come in a wide range of colour variations allowing you to pick a style that best suits your ride.
The Borrego gloves classic look comes from the use of both standard and suede leather finishes, diamond stitched details and tuck and roll style accordion flex panels. Designed to see you through summer and well into the cooler months the Borrego feature perforated palm and knuckle zones for breathability. Touchscreen fingertips add on the go convenience while an adjustable wrist closure allows you to adjust the fit to suit. To secure the gloves their safety rating Biltwell utilised an all leather design and added internal high-impact plastic padded knuckle guards for good measure.
Where to buy: Biltwell
Icon 1000 Baserunner Gloves – $80
Batter up! These are the first baseball mitt inspired motorcycle gloves we've seen, and whether you're a fan of the sport or not, you're sure to agree they look great. Available in either black or yellow tanned leather the Icon 1000 Baserunner Gloves are an eye-catching addition to any ATGATT attire.
The Baserunner gloves feature a tough, yet comfortable goatskin palm. Thanks to a single piece palm design they've done away with irritating seams for all day wearability. The gloves finger gussets and upper shell are full cowhide leather. Overlapped layers on the knuckles provide additional coverage and there are D30 inserts over the knuckles for steadfast, low profile protection. Touchscreen compatible fingertips add even more value to these well priced, uniquely styled riding gloves.
Where to buy: Icon 1000
Optional ATGATT extra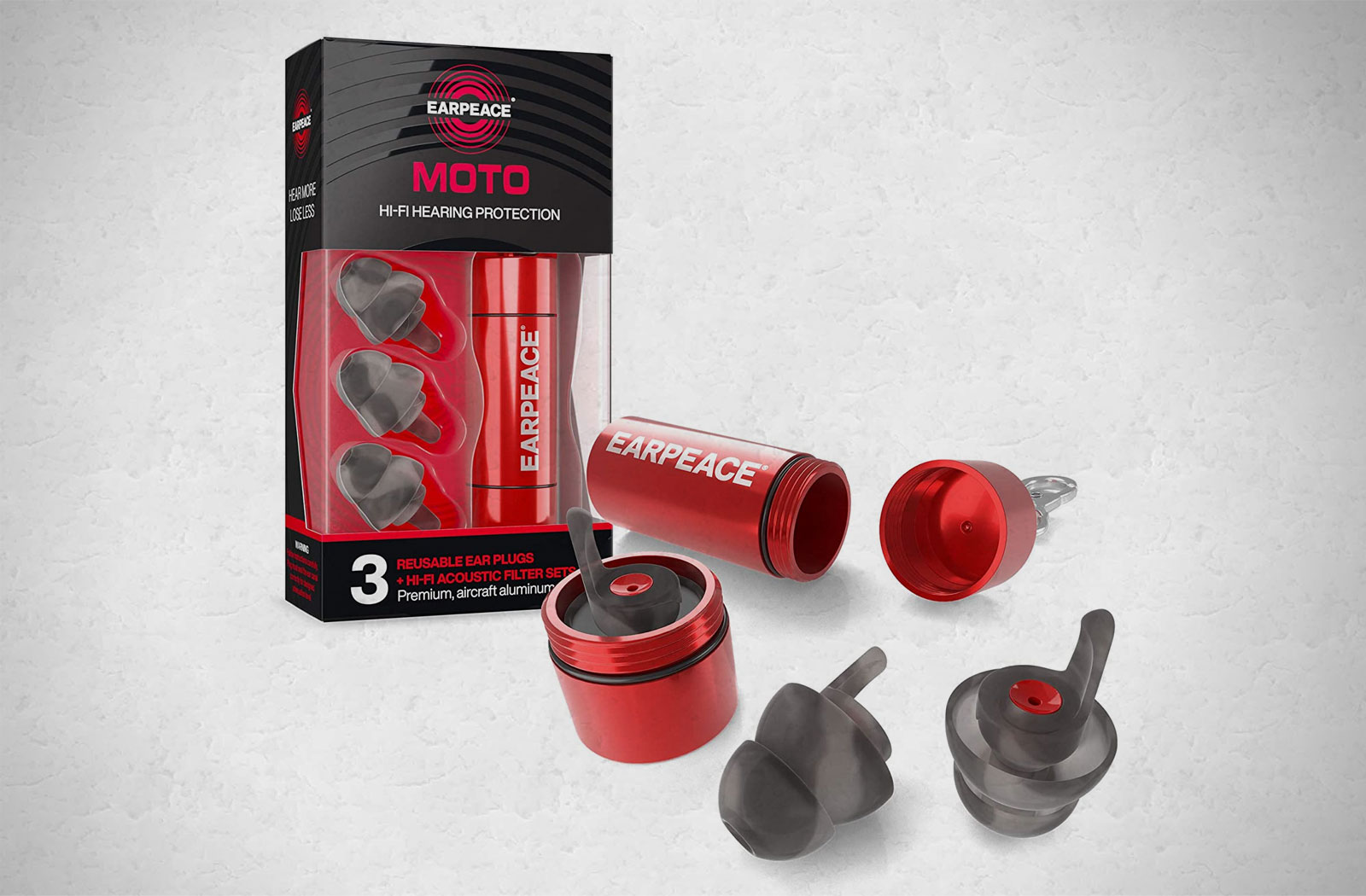 Last, but certainly not least we recommend protecting your hearing. You don't need to have a crash to cause permanent damage to your hearing and worst of all you won't notice it's been compromised until it's too late. These motorcyclist earplugs from EarPeace offer great protection at the very affordable price of $24.94. What makes these ear plugs so good is the ability to modify how much hearing protection they offer. Each pair comes with a set of 3 different filters that can be easily interchanged to suit your preference. They also come in a handy carry case which contains one spare ear plug in case you misplace one.
Where to buy: Amazon
To ATGATT Or Not. That Is Not The Question.
The topic of how much protective riding gear you should be wearing each time you ride isn't one we care to enter into. Personally, I live in a very warm climate where I often see riders in tees and shorts. There was a time when I'd ride in a t-shirt too, but these days I tend to go ATGATT. Everyone is responsible for their own safety on their motorcycle. Every decision you make, whether it's what gear you wear or how fast you ride is your own.
Ride safe and keep the rubber side down.