We'd like to think by now that every motorcyclist understands the importance of wearing protective riding gear. Unfortunately, our everyday observations paint a different picture. While most riders wear an appropriate jacket, helmet and gloves, it seems dedicated riding pants are often overlooked—even though most motorcycle injuries occur below the waist. So in the interest of rider safety, here are our choices for the Best Cafe Racer Pants in 2022.
What Are Protective Motorcycle Pants?
There was a time when keeping your legs safe while riding a motorcycle meant wearing leather pants. Leather still offers the best abrasion resistance available, which is why race suits are still made from the stuff. But wearing leather pants for your daily commute to work simply isn't convenient.
That's why riding gear manufacturers started using more tech fabrics during the past decade. By integrating these fabrics into the design of motorcycle pants, either through internal layers of Kevlar or by weaving special fabrics like Cordura into the denim itself, many brands have created pants that offer the convenience of regular streetwear and the protection that riding a motorcycle demands.
RSD Technical Denim Jeans
In our humble opinion, single layer protective motorcycle pants are always a smart choice. They fit just like regular jeans and won't leave you sitting in a puddle of sweat in the peak of Summer. The RSD Technical Denim Jeans demonstrate this approach perfectly. First introduced as part of the Roland Sands 2020 Technical Denim collection, these remain some of the finest motorcycle pants in their segment—even two years later.
Using a special mix of denim, Codura, and Aramid fibres, RSD created a pair of riding jeans that'll keep your skin intact should you make contact with the asphalt. Along with their excellent abrasion resistance properties, RSD has created a great looking piece of riding gear.
The RSD Technical Denim Jeans are styled to match your favourite pair of regular denim jeans. The classic 5 pocket design has a slim straight cut that's dyed indigo blue. For improved comfort, the jeans use a stretch fabric in the weave, and there's ample room to move in the 15-inch leg opening.
For those wanting extra protection, these jeans also come with removable CE Level 1 Knox Microlock knee armour.
Knox Shield Spectra Jeans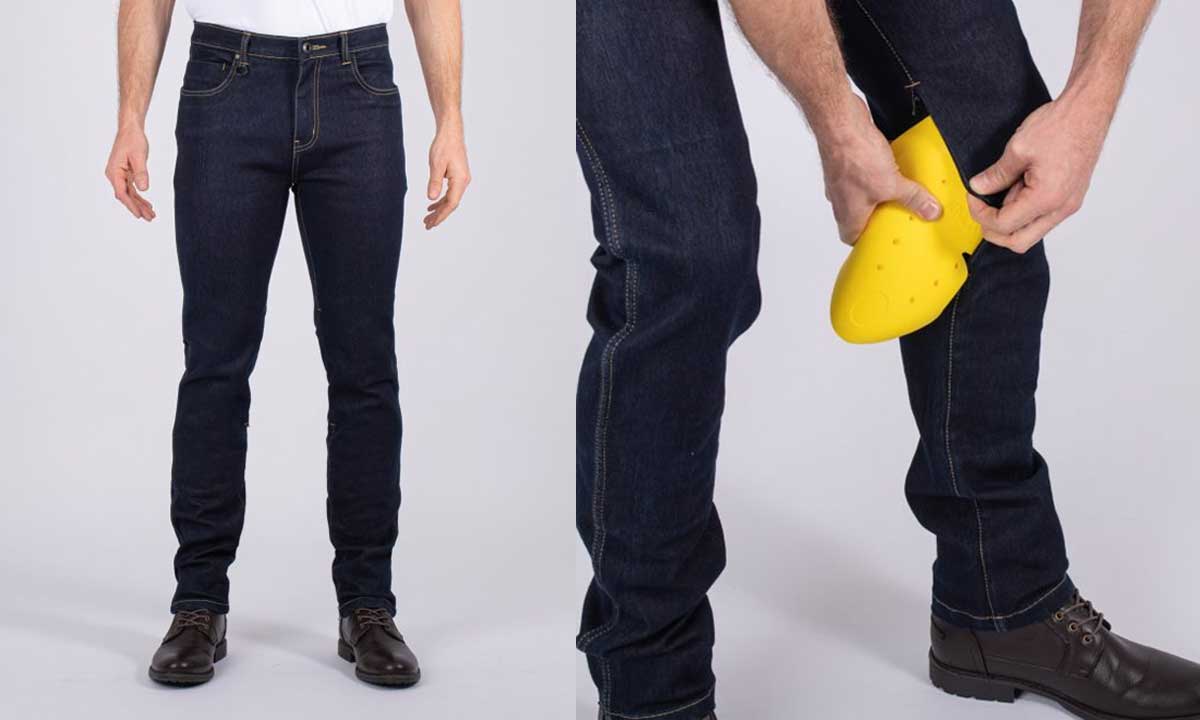 Another great-looking single-layer pair of riding pants currently on the market is the Knox Shield Spectra Jeans. These jeans are tough. By using the same type of material found in military helicopter armour—ultra-high molecular weight polyethylene fibre (UHMWP)—they've created a fabric 40% stronger than aramid fibres and with 15 times the tensile strength of steel.
Despite the impressive strength of the Knox Shield Spectra Jeans, they fit and wear just like your favourite pair of Levis. Four-way stretch means there are no tight spots when you're sitting on your bike, and the material has natural water-repelling properties. The Shield Spectra jeans are finished in deep indigo and sewn together with contrasting stitching. The cut is straight tapered with a medium rise waist for classic good looks.
Knox also provides Micro-lock armour in the purchase price for both the hips and knees. The hip armour installs internally, while the knee armour slides into zippered external pockets. This smart feature allows you to uninstall the armour for a more inconspicuous streetwear look once you're off the bike.
Draggin / Drayko Holeshot Jeans
Drayko is a brand operated by Draggin Jeans of Australia, and the labels on these pants might bear one name or the other depending on where you buy them. But although there might be some confusion surrounding the brand, there should be none at all when it comes to the question of whether these truly incredible motorcycle jeans will protect you in a slide.
The Drayko HoleShot Jeans are simply some of the best protective riding pants money can buy. Made with a unique combination of DuPont kevlar and Dyneema (also known as the world's strongest fabric), the lining in these pants will outperform competitors made from basic knitted or woven kevlar any day of the week.
Furthermore, the HoleShot jeans come fully loaded with CE Level 2 armor in the hips and knees, giving you excellent impact protection on top of their already enviable abrasion resistance. No, they're not cheap, but it begs the question: how much is your ass worth to you?
Dainese Denim Slim Tex Pants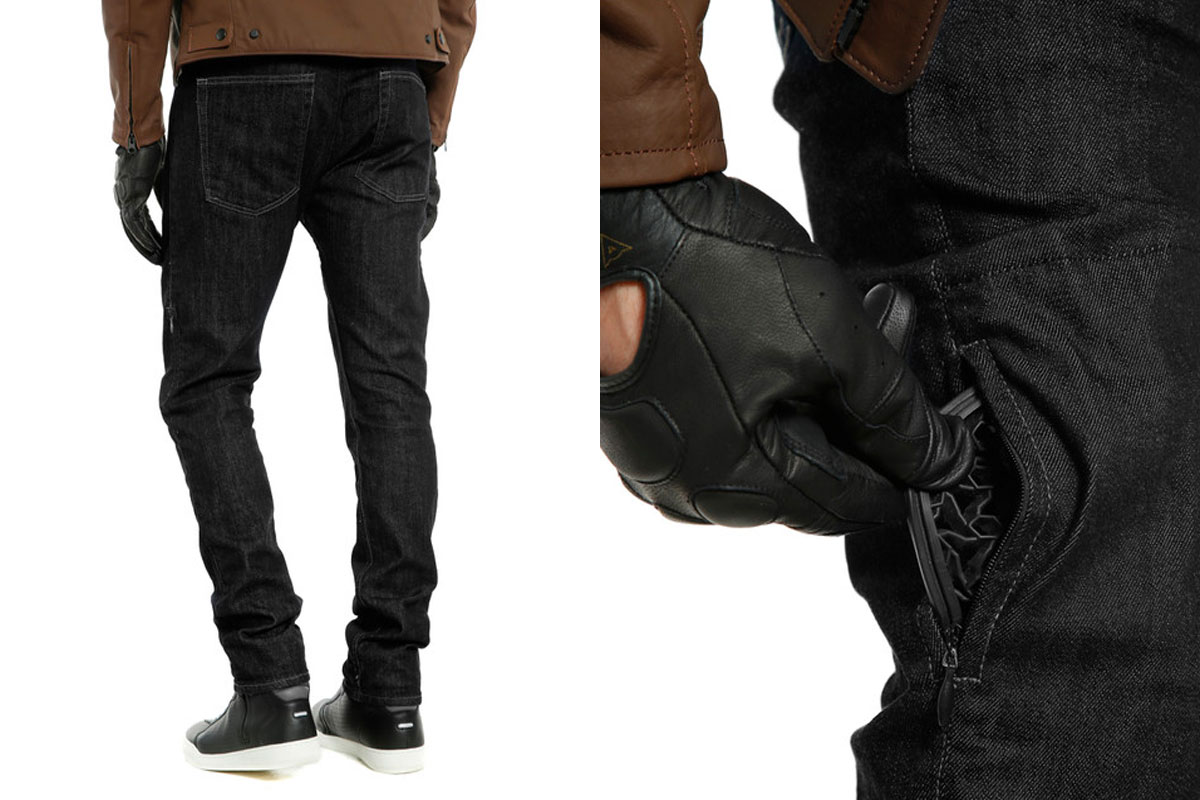 With a history steeped in racing, Dainese know a thing or two about making protective motorcycle gear. As you'd expect, that knowledge has been transferred across to their range of urban riding gear.
Dainese state that their Slim Tex pants offer a balanced mix of "both protection and comfort". They have achieved this by designing a durable stretch denim that's ideally suited to daily use.
Woven into the denim chassis are aramid fibres that aid in the prevention of abrasion injuries. Additional protection comes in the form of Dainese Pro 2.0 knee and hip armour. If you're not into the idea of wearing armour around the office, the knee armour can be removed externally. The combination of these elements has earned the Dainese Denim Slim Tex pants an A level safety certification.
The slim fit Slim Tex pants are finished in either a black or steel blue denim with contrasting stitching and minimal branding.
Bull-It Tactical Jeans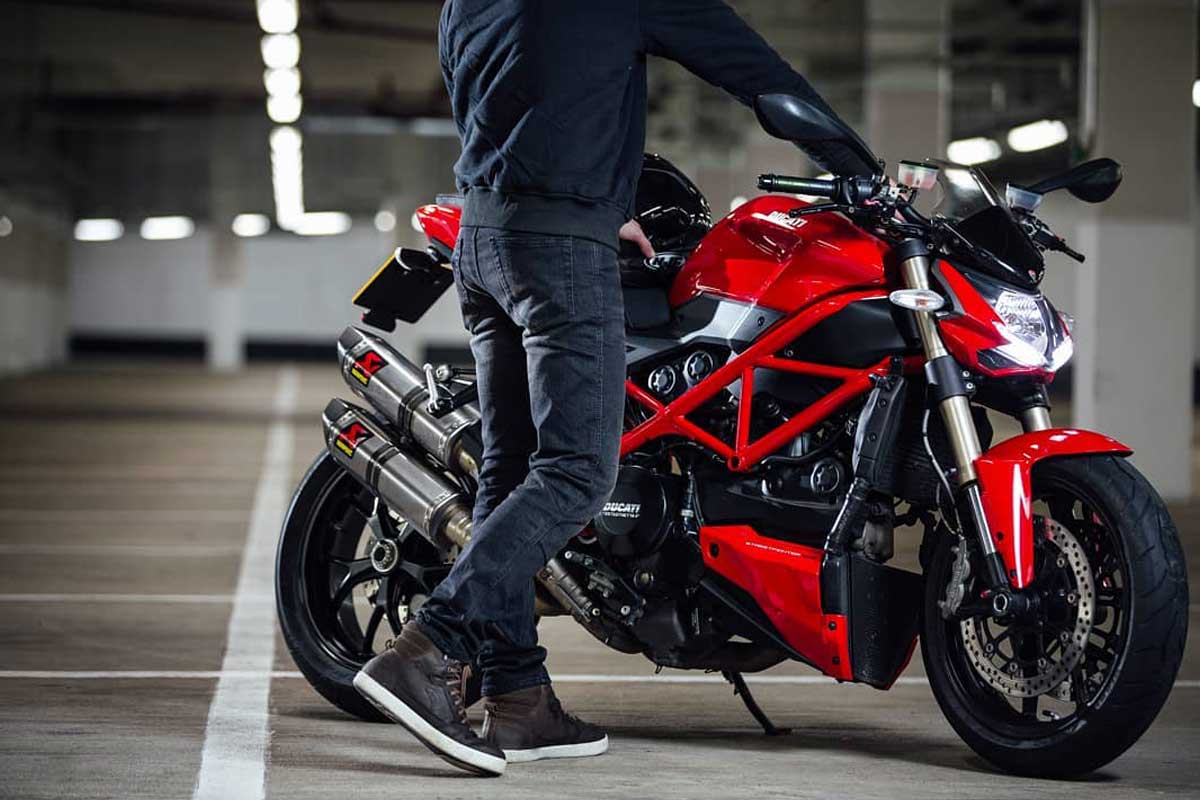 UK gear manufacturer Bull-It have another impressive pair of single-layer riding pants to offer riders. The Bull-It Tactical Jeans are available in a range of styles and colours to suit individual tastes.
When purchasing these jeans, you can choose from either a slim, straight, or easy fit. Sizing is also very flexible, with most options available in different inseam lengths. Each style is available in either blue or black denim finishes, and you can choose to purchase the jeans with or without armour—depending on your budget and the level of protection you're after.
To ensure their Tactical Jeans would hold up under heavy use, Bull-It teamed up with technical textile experts Covec. Together, they developed a type of denim that's capable of offering abrasion resistance at up to 75kph (46.6mph) and dissipating the heat formed by road friction. The Bull-It Tactical Jeans are also cut and tear-resistant for complete peace of mind.
Icon Stormhawk Pants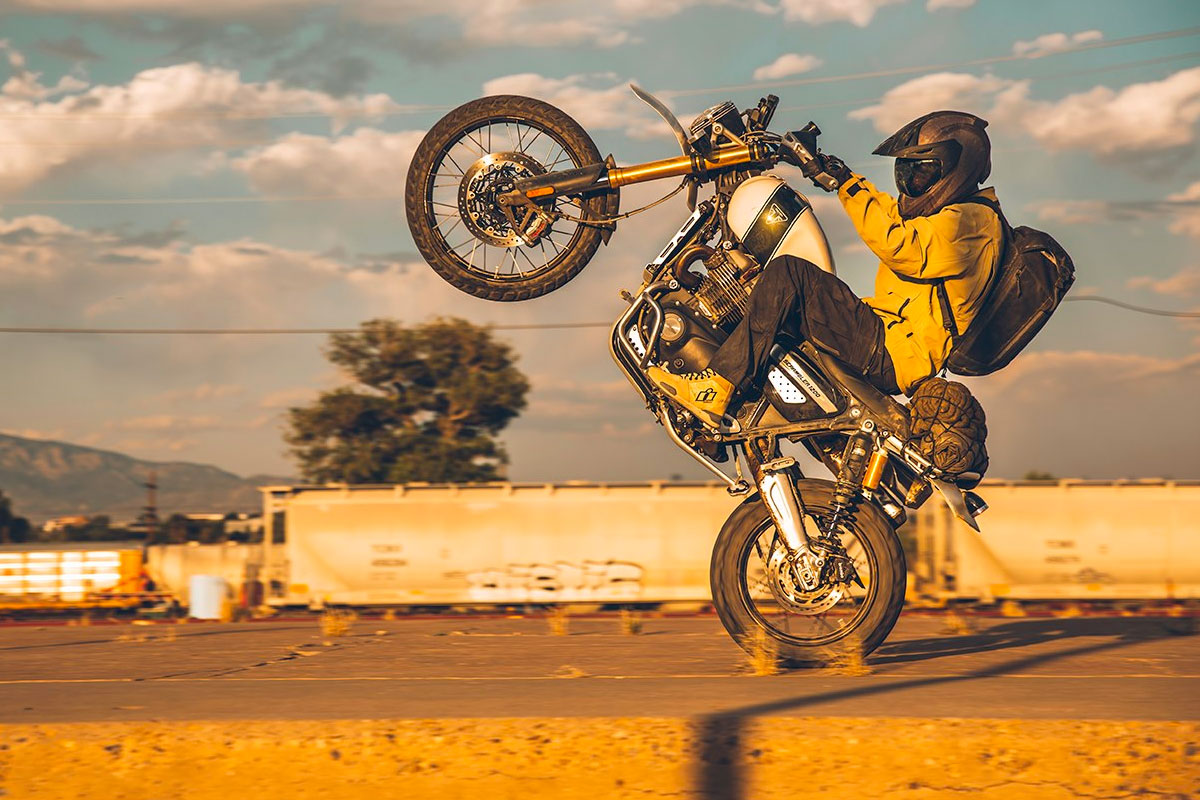 Riding in wet weather isn't something all riders choose to do—but for those who aren't afraid to tackle the elements, a decent pair of waterproof pants is essential. Unfortunately, most wet weather gear looks downright goofy.
Portland-based gear manufacturer Icon doesn't do goofy. So when they set out to create the perfect riding companion for inclement weather, they made sure it looked good.
The Icon Stormhawk Pants are the lower half of their full Stormhawk ensemble. The over-pant design is meant to allow you to wear them over a regular pair of pants and easily remove them once you reach your destination. Their high waist and removable suspenders also keep the water out at hip level, while adjustable closures at the ankles let you secure them tightly for a comprehensive waterproof solution.
The Icon Stormhawk Pants are built using an abrasion-resistant polyester shell with a Hycor breathable membrane. Additional internal 600D polyester bolsters their abrasion resistance qualities, while D30 hip and knee armour are present to handle any hard knocks. Reflective highlights help you stand out in low light conditions, and the pants can be secured to the Icon Stormhawk jacket to complete the look.
Saint Unbreakable Model 4 Overdyed Indigo Jeans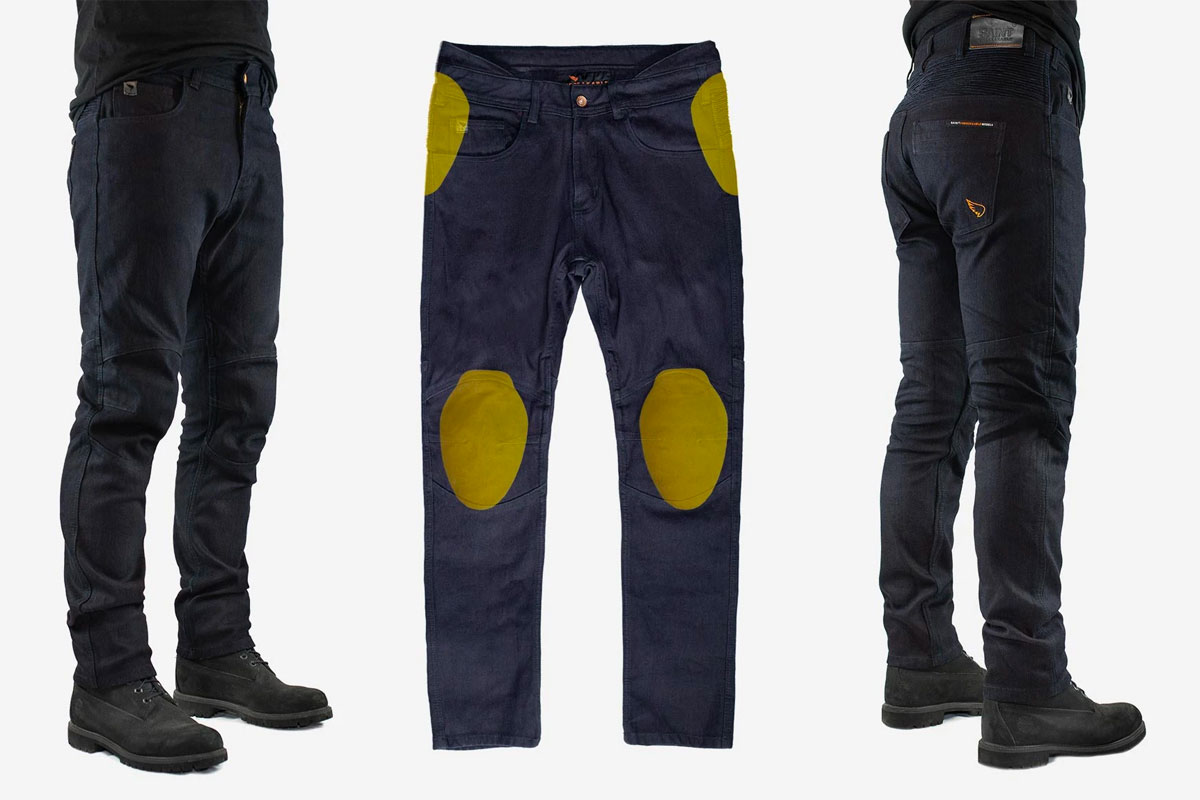 Aussie brand Saint burst onto the riding gear scene back in 2014. Since then they've amassed a global following thanks to their great looking high-performance gear and unwavering passion for everything 2-wheeled. Saint launched their brand by releasing some of the first single-layer protective denim to ever hit the market, and they've continued to improve on it ever since.
The Saint Unbreakable Model 4 Indigo jeans are Saint's most protective riding jeans to date. Boasting a AA CE safety rating, their secret to protective success is a 25% Dyneema weave. Dyneema single-layer denim is a lightweight alternative to liners that doesn't sacrifice safety. At 15 times the strength of standard Kevlar, it's also a better barrier to have between you and the road.
Saint's range of motorcycle jeans is easily some of the best-looking gear on the market. As a result, their apparel is commonly seen on everyone from professional racers to movie stars, and the Model 4 jeans are no exception.
The 5 pocket style jeans feature a standard fit and a tapered leg. A high back waist and accordion stretch panel on the lower back keeps them sitting comfortably, and a contrasting orange wing emblem on the rear pocket completes the look.
Dainese Combat Pants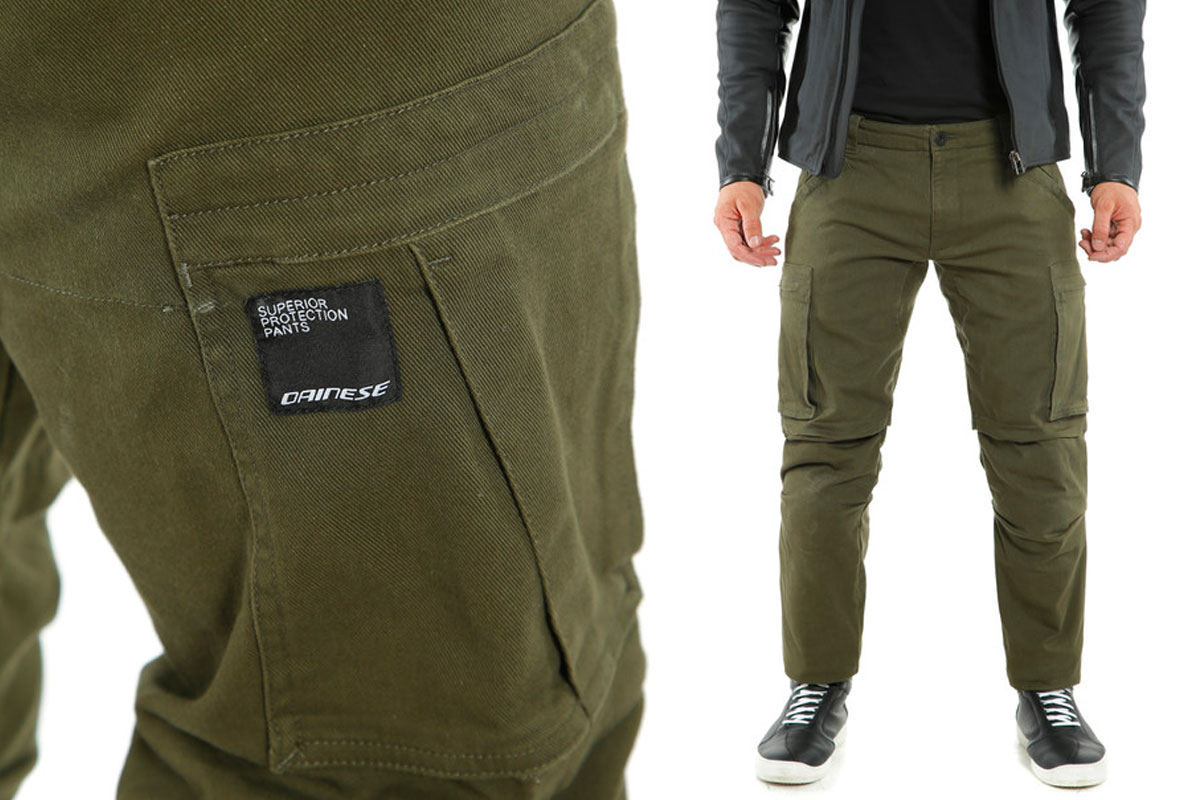 Combat pants are a great option if you're looking for a more casual appearance with the added benefit of extra storage space. The Dainese Combat Pants offer exactly that. Designed for warmer weather conditions, these motorcyclist combat pants offer the comfort and convenience you want without scrimping on safety.
The Dainese Combat Pants are constructed using a specially designed Armalith yarn. This has resulted in a soft yet impressively abrasion- and tear-resistant material. Their single-layer design aids in their ability to keep you cool on warmer days, and the fit is similar to regular fit jeans.
Additional internal layers of Aramid fibres, rigid protectors at the knees, and Pro-Shape 2.0 soft protectors on the hips combine to offer you all the protection you'd expect from Dainese.
The Dainese Combat Pants are available in either black or Olive green. And 6 storage pockets let you keep bulkier EDC items within close reach.
REV'IT! Alpha RF Chinos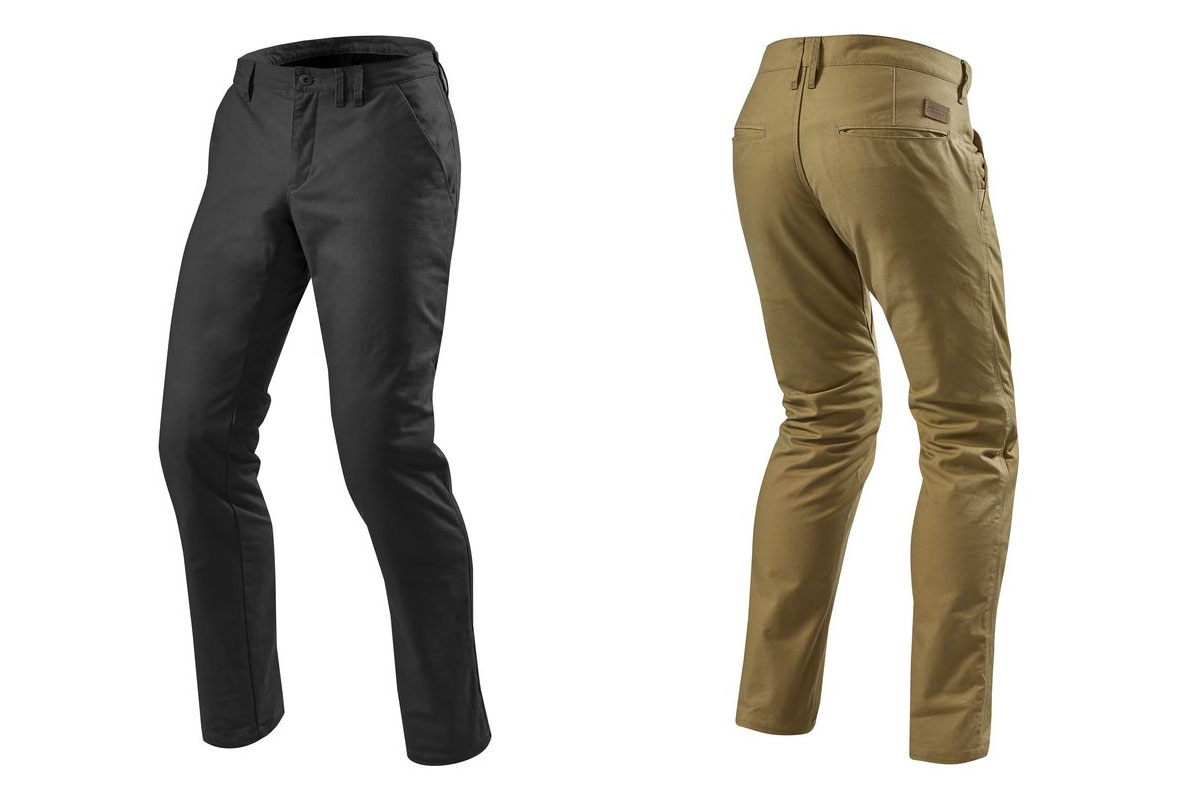 It's now possible to step off the bike and head straight into the office without raising any eyebrows. The Rev'It! Alpha RF Chinos are the most inconspicuous pair of riding pants you're ever likely to own. These chino styled pants are an ideal solution for urban commuters/office workers who are tired of carrying a change of clothes to work.
Available in either black or khaki, they feature a regular fit with 2 side and 2 rear pockets. But the real clincher here is how Rev'It! has been able to integrate safety into their design.
The Alpha RF Chinos are constructed from 10.5oz Cordura, which has been infused with CoolMax to improve the material's ability to wick moisture. A 100% polyamide liner bolsters the abrasion resistance of these chinos, while removable CE level 1 SeeSmart armor protects the knees and hips.
Pando Moto Mark Kev Cargo Pants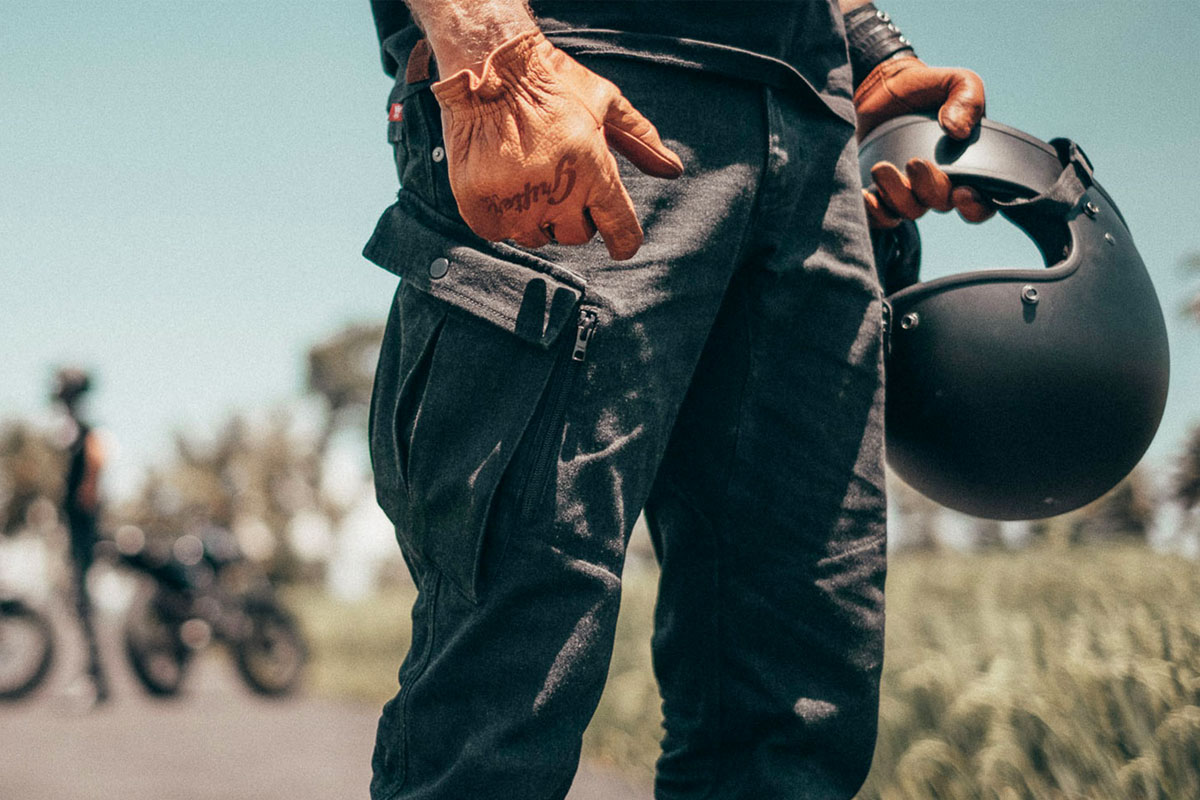 Last but not least in our best cafe racer pants for 2022 list are these aggressively styled cargos by Pando Moto. The Pando Moto Mark Cargo Pants are a tactical style garment featuring a tapered cut and high waistband, adjustable/elasticated ankle cuffs, and ample storage space.
Finished in a stealthy black 12.5oz 'super-stretch' denim, these pants sit at the heavier end of this list. To keep them cool in summer, Pando has combined the denim with moisture-wicking, breathable COOLMAX technology. Abrasion-resistant layers of DuPont Kevlar add strength to impact-prone areas, while removable SAS-TEC armor at the knees and hips copes with any hard knocks.
All of the seams in the Mark Cargo Pants are strengthened, thanks to the use of aramid stitching, and they're made in Europe to Pando Moto's stringent quality standards.
Check out this video on the Pando Moto Mark Kev Cargo Pants!